Welcome to the web site for Motor City Galaxies, the Detroit Michigan chapter of the Ford Galaxie Club of America. I am Chester Towles, Chapter Director.

For more information you can call:
Chester Towles - Chapter Director
Phone: 248-437-8101
Or E-mail Chester at:ctowles@towlestransport.com
Mailing address is:
Motor City Galaxieclub
PO Box 6, South Lyons,
Michigan, 48178
Click HERE for on-line application to join today!
---
E-mail us for more information @
ctowles@towlestransport.com


---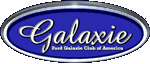 Go to the
Ford Galaxie Club of America
The Motor City Chapter of the Ford Galaxie Club of America is preparing a activity filled 2004 curise season.

Member Profile/Galaxie Club of America Motor City Chapter Garage Tour
MEMBER PROFILE: This monthís member profile subject is Mike and Carole. They have a very nice collection of Galaxies. They have been active in local clubs and cruises for many years. Their love of the hobby has turned into a profession of sorts. They recently took over the Westland location of Budís Motor Sales. Currently in the update phase of ownership they are starting to operate as Modern Classics. A name fitting the types of vehicles they have on hand. Many of the classics on site are part of their private collection. They also take classics on consignment.
Modern Classics is the dream facility of every car buff. Walking into the front show room you are greeted by stand up posters of The King and Betty Boop. There may be a 1940 Ford, a 1934 Vickie street rod or some other classic on the floor at any given time. The vintage Whirlpool washer is a true conversation starter. Not to mention the mint vintage bicycles on display. Mike and Carole have part of their extensive Coca Cola display lining the walls. Posters and vintage signs fill the available wall space.
With more that one building available on the grounds it is a delight to take a peek into the other building and see even more Modern Classics. On the spacious grounds Mike and Carole also rent out storage spaces for motor homes, trailers, boats and any other item you may need to store in a secured area off your property.
GARAGE TOUR: Mark your calendar for January 17, 2004. Members Mike and Carole have been most gracious in extending, to the Motor City Chapter, an invitation for a garage tour. Their shop covers a very large area on Newburgh Road in Westland. Currently known as Budís Classic Cars, Mike and Carole have made numerous improvements to the facility. Join the Motor City Chapter for a great afternoon of Galaxie conversation, automotive fellowship and plenty of Modern Classic eye candy. Not to be confused with Monster Garage of TV fame and Jesse James. The Modern Classics garage tour is hosted by the individual that Jesse James tries to be like on his program. Minus the tattoos Mike is a cooler dude than Jesse could be on his best day. Why do you ask? Youíre not getting an invite from Jesse James for a Monster Garage tour, your getting an invite from Mike for the Modern Classics garage tour. Mike knows that the Motor City Chapter is the happening Galaxie group around. I donít look for an invite to the Monster Garage; I know that Modern Classics is the place to be.
We will be meeting at the Budís Motor Sales (Modern Classics) at 2 pm on Saturday January 17th. The tour will start at 2 pm. At 3 pm our gracious host and hostess will turn their garage area into a banquet hall for us. Please bring a dish to pass.
With two large buildings available there will be plenty to see on the second Motor City Chapter garage tour.
Mike and Carole ask that you RSVP to Chester Towles (Motor City Chapter) @ 248 437 8101 or Modern Classics @ 734 721 3633. This will help to make sure there is enough food to go around.
Budís Motor Sales
1118 S. Newburgh Road
Westland, MI 48186

The FIRST Motor City Chapter Garage Tour is in the Record Books
The Motor City Chapter had a good cruise season in 2003. The first shop tour for the chapter took place at Total Performance in Mt. Clemens, Michigan. Tied into a season ending cruise at Russ Milne Ford was the first shop tour. Hosted by John and Elaine Vermeersch at their shop. Elaine was a most gracious host to our group. John was kept busy answering questions.
The group in attendance was treated to all sorts of automotive and performance eye candy. Cobra's, 429 SOHC motors, perfromance cars, NASCAR vechicles were there for all to drool over. With John answering any and all questions thrown to him it was a learning experience also.
Motor City Chapter spark plug, Bob Varto, with his show Galaxie at the Russ Milne Ford season close out cruise.
This car might look familiar to you. It is the FOX Sports show and tell NASCAR racer. This the the vehicle that the broadcaster uses to show any changes in the rules and how it impacts the actual race car.
John and Elaine have a fantastic 1957 Ford wagon to tow the Lucy Trailer. The Vermeersch's have a grand time with the tow vehicle and the trailer. With the interior of the trailer all decked out in LUCY style they take vacationing to a new level.